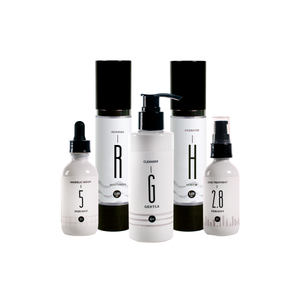 Acne Rosacea Skincare Routine
Regular price
$124.00
$0.00
Unit price
per
These products are formulated to help you reduce your rosacea breakouts and redness.
Click the link to learn more about each product or to purchase that solution separately.
Order the set to save 10% (retail for these products individually is $138) and score FREE shipping.
A mild cleanser designed for sensitive or damaged skin, to moisturize skin while removing impurities. 
Mandelic acid is anti-bacterial, anti-fungal, and anti-inflammatory; three powerful ways to address and treat Acne Rosacea. This serum has been specially formulated with Mandelic Acid, Lactic Acid, and Niacinamide, a form of Vitamin B3 that helps to protect the skin. It helps to reduce the appearance of fine lines and wrinkles and leaves skin feeling smooth and soft.
This ultra-hydrating serum is specially formulated to help restore the moisture balance of the skin. It is formulated with antioxidants, which help to rejuvenate and nourish.
A key to getting your skin clear is balanced skin. If the skin isn't hydrated, it's much more difficult to clear. 
A soothing, medium-weight moisturizer that replenishes and defends skin to promote healing. This unique oil-free formula contains ceramides and Hyaluronic Acid, the most effective humectant available for deep moisture. 
An effective nighttime treatment to exfoliate dead skin and fight bacteria. 
---
Share this Product