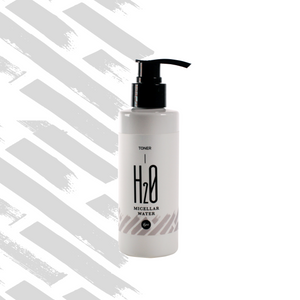 H20 Micellar Water Toner
Regular price
$18.00
$18.00
Unit price
per
Micellar Water is a prized, one-step cleansing wonder. Using the magic of Micelles, tiny, round surfactant molecules that have a lipophilic end (attracted to oil), and a hydrophilic end (attracted to water), makeup, oil, dirt, and grime are gently, quickly, and easily removed WITHOUT the need for rinsing. A calming scent makes this ideal before bed.
Great for all skin types. Keep it in your gym bag for a quick wipe-down after sports activities. Ideal for tweens that are starting to experience clogged pores and not quite acne.
Provides relief for normal to dry skin experiencing clogged pores or mild acne.
Water, Witch Hazel Water, Glycerin, Gluconolactone, Sodium Benzoate, Medium Chain Triglycerides, Decyl Glucoside, Lauryl Glucoside, Lavender Flower Oil, Polysorbate 20, Alcohol.
---
Share this Product
---