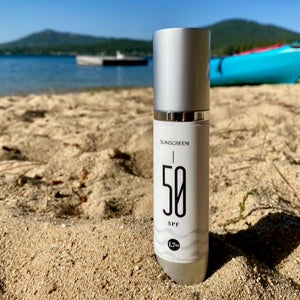 Sun Care Skincare
Regular price
$93.60
$0.00
Unit price
per
These products are formulated to protect your skin from sun damage without breaking you out, while keep your skin hydrated and glowing this summer.

✔️ First, apply water hydration with our Hydrator Serum as your first line of defense against aging and cellular damage.
✔️ Next, replenish and soothe your skin with our Repairing Moisturizer.
✔️ Then, seal everything in with our lightweight broad-spectrum SPF50 that won't break you out. This final step will lock in hydration and protect from harmful UV rays.
Click the link to learn more about each product or to purchase that solution separately.
Order the set to save 10% (retail for these products individually is $104) and score FREE shipping.
This ultra-hydrating serum is specially formulated to help restore the moisture balance of the skin. It is formulated with antioxidants, which help to rejuvenate and nourish.
A key to getting your skin clear is balanced skin. If the skin isn't hydrated, it's much more difficult to clear. 
A soothing, medium-weight moisturizer that replenishes and defends skin to promote healing. This unique oil-free formula contains ceramides and Hyaluronic Acid, the most effective humectant available for deep moisture. 
Our lightweight and hydrating broad-spectrum SPF formula fights off UV rays with organic chemicals and minerals that are non-toxic and anti-inflammatory. Acting as a barrier between your complexion and the sun, it reflects harmful UV rays away from you rather than allowing them to absorb into your skin, like traditional carbon-based sunscreens. Because of this, our mineral SPF is designed to be safe and effective for even the most sensitive skin, like those battling breakouts, rosacea, seborrheic dermatitis, psoriasis, or vitiligo.
---
Share this Product
---